The Best Downtown Santa Monica Restaurants for Outdoor Lunch
Heat wave, anyone?
Just because you may be part of the working class doesn't mean that you can't bask in the sudden 90 degree Santa Monica weather!
Take your lunch break away from your desk and computer and get some Vitamin D. Here is a list of some of the best outdoor lunch spots in Santa Monica.
Tucked into a quiet courtyard of the Santa Monica public library, expect 85% outdoor seating (some under umbrellas and some not) and very inexpensive pricing on the menu for sandwiches, salads and more!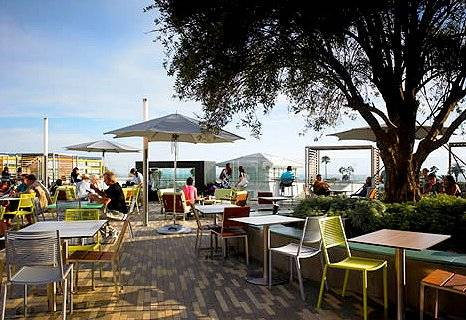 Santa Monica Place
Yes, it's a shopping hub, but Santa Monice Place is also chalk full of outdoor dining options during your lunch time. If you don't have a lot of time, or are on a brown bag budget, check out their awesome food court option, complete with tons of outdoor seating.  Feel a little less thrifty or have a bit more time to spend soaking up the sun on your lunch break? Check out uber-healthy True Food Kitchen on the bottom level or head upstairs to M.A.K.E,  Zengo or over to Sonoma Wine Garden for their lunch time happy hour!
Feeling healthy? Head over to Tender Greens but expect to brave a line at peak lunch times. Don't see the outdoor seating? It's located in the back of the restaurant in a semi-shaded courtyard area!
Located next to Tender Greens, this upscale burger joint has a menu featuring paleo burgers, burgers with gluten free buns and some of the best grass fed beef burgers in downtown Santa Monica! While most of the seating is inside, there are some small and large tables in the courtyard outside, some with umbrellas and some without!
Back on the Beach
For those of you who think that 90 degree weather ought to go hand-in-hand with feet in the sand, impress your coworkers by suggesting this beach front cafe, located adjacent to the gorgeous Annenberg Beach House. Their menu features sandwiches, salads, seafood and burgers and yes, you can sit outside facing the ocean with your feet in the sand!