From Ugh to Ahh: How to Make Your Refrigerator Look Cool Instead of Gross!
Alright, we get it.  Not everyone is fortunate enough to live in an apartment or home that came with shiny new stainless steel kitchen appliances!
So what do you do when you've moved into a new place with dingy old appliances? Before you get crazy and cover your entire fridge with a bunch of tacky magnets, we suggest instead that you look online for some of these modern day solutions!
These ideas are all super easy, inexpensive and all temporary, which means that you shouldn't be causing any damage to the refrigerator, but you may still want to get an "ok" in writing from your landlord first anyway.
Invest in a Fridge Skin
Whether want to show off your sense of humor or really just want to cover up that eyesore of a fridge from the 1980's, fridge skins are all the rage in kitchen art/functional appliance cover up.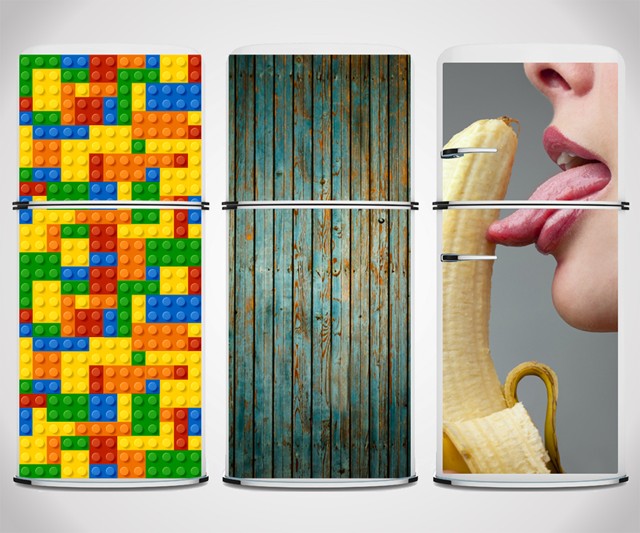 Kudu Magnets is fun site that features "skins" for both refrigerators and dishwashers (because no, you do not want anything plastic on a stove or oven when it heats up).  The fridge skins come in a variety of sizes including a top freezer, bottom freezer, side-by-side design and something called a "french door" fridge.
Designs range from cutesy to artsy to downright kind of weird, so you know that there will be something for everyone! Can't find a design that you want? Surf online not only for fridge or appliance skins but also check for fridge clings or refrigerator decals.
Try Some Peel Off Wallpaper
Webstrodinare Aunt Peaches had this compelling post on why you should wallpaper your fridge and we must say, if you find a print that you love, then why the heck not?


Image from AuntPeaches.com
You may even love the temporary wall paper so much that you decide to skip the ugly appliances and make your walls become the focal point of the kitchen instead! But don't do both. Never do both!
Cool temporary wallpaper can be found at Chasing Paper, Mod Cloth and of course, on Etsy.  And just an FYI if you decide to dig around even further, temporary wallpaper may also be referred to on some websites as removable wallpaper.
How About Some Peel-Off Decals?
So maybe you are on an even more limited budget or you don't necessarily want to cover up the entire appliance. How about trying some peel-off decals that would normally be reserved for your walls?
You can find tons and tons of different designs on Ebay or Etsy, which is where we found this hilarious little iPhone inspired one below! Decals are also an amazing way to decorate your kitchen even if you don't hate your appliances but do want to make a statement or add some color or humor to the space.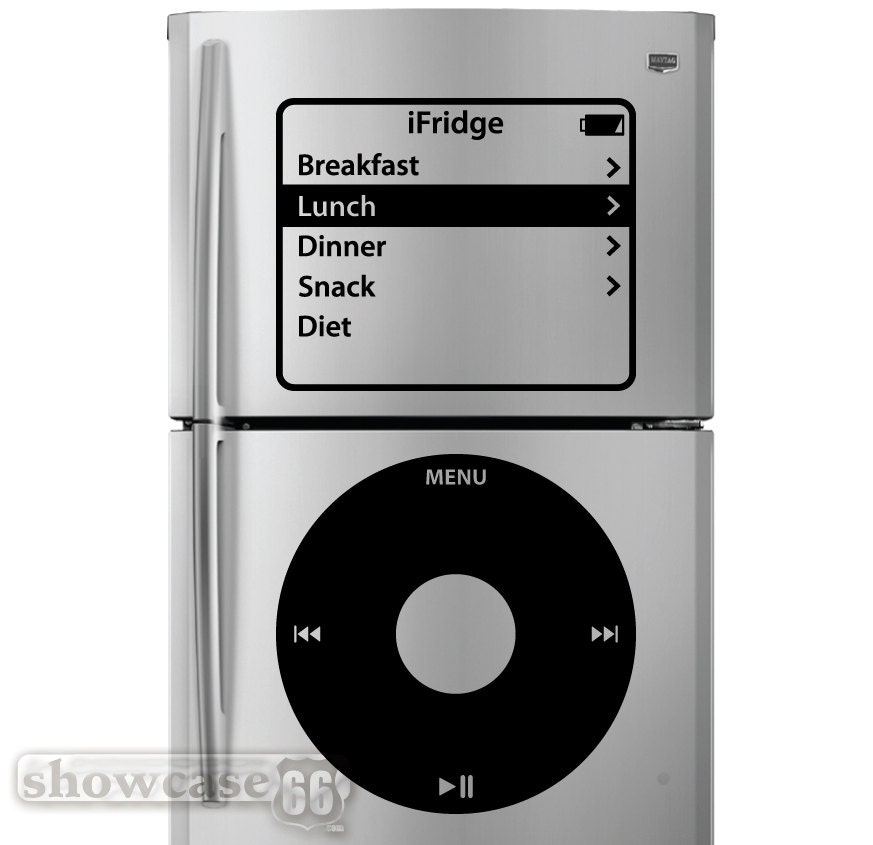 Photo via Showcase66 on Etsy
So remember, there is no need to put up with ugly kitchen appliances, except for maybe the stove which again may not be safe to do all that much with (we will research and provide info in another post).
Who knows? Maybe you'll find so many cool designs and options that you'll be glad that you hate your appliances!