5 Chic Ways to Decorate with a Sports Theme
Just because you or your loved one is a sports enthusiast doesn't mean that you have to decorate your home with tacky, infantile or obvious sports related décor!
Thanks to websites such as Amazing Interior Design and of course, Pinterest, we bring you some of the chicest ways to show your sports love while keeping your home chic.
Repurposing a wooden tennis racket into a mirror
This bright idea was brought to you by Country Living Magazine, which starts by instructing you to take your racket to a glass shop and ask for a custom-cut beveled-edge mirror that  fits inside the rim. They predict that the size you will need will cost between $30 and $50.
Then, apply some glass adhesive (available at any Home Depot or Lowes) onto the back of the glass and then firmly pressing it onto the racket strings.  Allow the project to dry thoroughly before mounting on the wall with a mirror (they suggest at least 24 hours).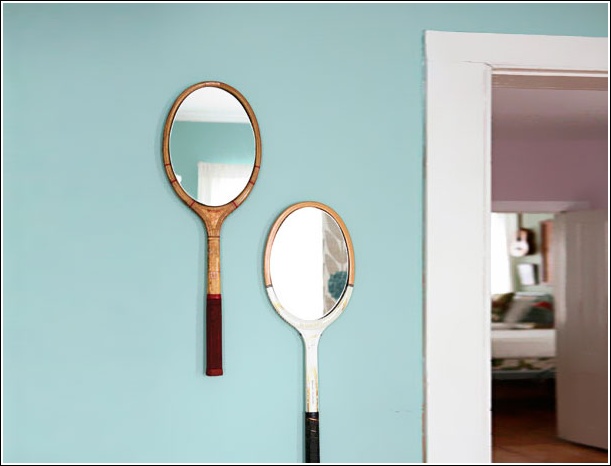 We've also seen vintage tennis rackets repurposed into cool chalkboards.
Bicycle Sink
The picture below is of a design by Benjamin Bullens, but with the right know-how and tools, you may be able to do it yourself! While we couldn't find exact information on how to make a DIY Bicycle Sink, we did find a break down on how Benjamin Bullens did it HERE.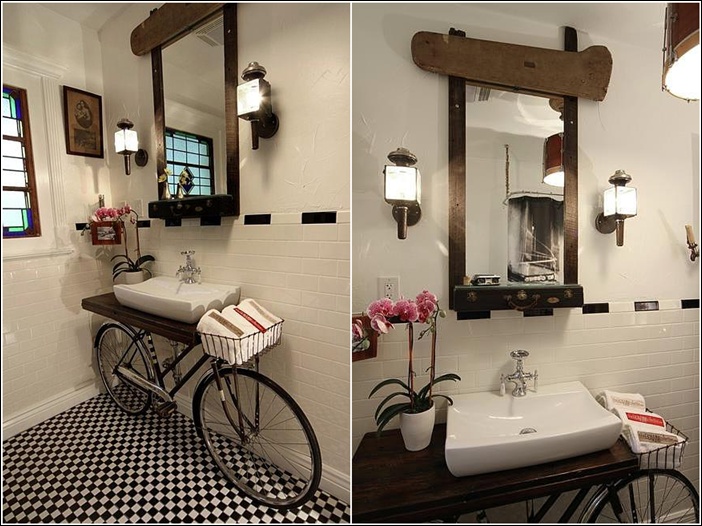 Avid skier? Snow bunny? You can buy this chic ski wine rack from Etsy for a pretty penny, or, go for a smaller and less expensive version available HERE.
With the right tools and some sanded down vintage boat oars, you too can show your love for all things nautical, or nautical sports, with this cleverly designed headboard!
Hey, beach bums! While the idea of a surfboard turned coffee table may not sound chic, we assure you that when paired in the right living room, it is chic!
We found a ton of super cool upcycled surfboard décor HERE and HERE, including various versions similar to the surfboard table below!